usda rural housing program
100% Financing Available
from DHI Mortgage for USDA eligible borrowers*

The USDA Rural Housing Program is designed to give borrowers a no down payment option.
Here are some highlights of this amazing program:
Competitive interest rates
One-time guarantee fee of 1% (may be financed)
Maximum loan to value 101% of appraised value
No minimum cash contributions from borrower
Gift funds allowed (if needed)
Seller concessions up to 6%
First-time homebuyers allowed
Debt-to-income ratio of 29/41 (housing/total debt)
(Exceptions encouraged with compensating factors)
Primary residence only (Cannot own any other property)

For more information about the USDA Rural Housing Program, contact your DHI Mortgage Loan Originator today!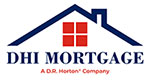 www.dhimortgage.com
9561 S. Kingston Ct., Suite 110
Englewood, CO 80112 720-488-2080>
Financing offered by DHI Mortgage Company, Ltd. (DHIM). Branch NMLS #133322. 9561 S. Kingston Ct., Suite 110, Englewood, CO 80112. Company NMLS #14622. DHIM is an affiliate of D.R. Horton. For more information about DHIM and its licensing please visit http://www.dhimortgage.com/affiliate/. Provided for informational purposes only. This is not a commitment to lend. Not all borrowers will qualify. *USDA Program contains borrower income and asset limitations. Property eligibility requirements apply. Additional closing costs may apply. A good faith earnest deposit is required at contract. Please contact your mortgage loan originator for complete eligibility requirements. Equal Housing Opportunity. USDA=U.S. Department of Agriculture. Rev: Aug 31, 2020 / Expires 3 months from revision date.